Description
We have prepared Free Swimming Characters Animation plat Art for you. This is a useful set for those who create a game with a marine theme. In it, you will find three characters (Woodcutter, Grave Robber, Steam Man). The characters are made in the style of pixel art, which means they are suitable for many genres of 2D games. For example, they are perfect for various fighting games, mysterious quest tasks, RPG, MMO-RPG, exploration, various puzzles, and others. At the same time, all characters have their own, cool, and most importantly, unique movement animations. Using them, it will be easier for you to come up with new traps or obstacles that the player will have to overcome. All animations are stored as sprite sheets, sized 288×48 and 144×48. 3 types of attack, death, 3 type of hurt, 2 types of idle, several types of swimming.
Use this set to create a truly iconic game that will take place in battles with sea monsters, search for lost relics, or just exploring the underwater world. Also, the advantage of this pack is that it can be easily edited. For example, you can change the color of the clothes or skin of the characters, add new details such as wristwatches, etc. For this, any graphic editor, such as Adobe Photoshop, is perfect.
Graphics: 2D, Pixel Art;
Quantity: 3 characters;
Format: PSD, PNG.
Demo animation: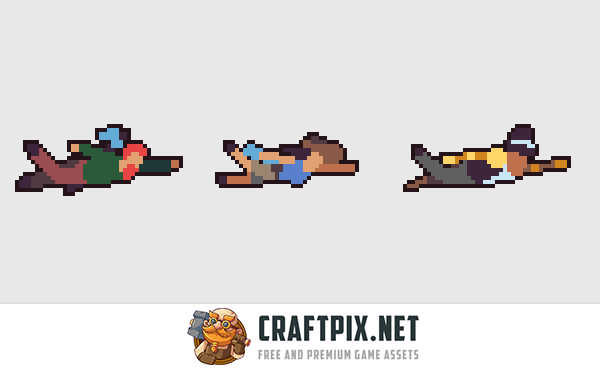 Save 98% OFF on ALL product
Get unlimited access to all game assets and save over $4713!
JOIN THE CLUB
UNLOCK DOWNLOAD
Instant access to ALL GAME ASSETS (included new ones!)
12 new products / month
Unlimited downloads for each product
Regular updates and support with dedicated help desk
You can sell and distribute games with our assets.
Free Download
Download this item grants you royalty free usage in unlimited projects. License details
What do you think?