Description
Your attention is presented to the unique set of Graveyard Top-Down Tileset Pixel Art. It has beautiful graphic elements to create a cult game! In this hauntingly charming pixelated creation, you can take a journey down the winding paths of a forgotten cemetery, where each tile tells its own story. Here, you will find a huge selection of level tiles 32×32 (64 pieces), various trees, branches, felled stumps, fences, fresh graves, monuments and statues, tombstones, grass elements of the path, as well as animated objects (lampposts and hangman with a skeleton).
Use this set to create a spooky graveyard environment where the players will have to fight terrifying monsters and the undead to get the resources they need. And thanks to the use of pixel art, you can easily integrate this package into most popular genres of the 2D game industry (RPG, runner, adventure, quest, etc.). At the same time, you still have the ability to easily edit the appearance of all graphic elements that are stored in this set. For this, you will need a simple graphics editor Adobe Photoshop.
Graphics: 2D, Pixel Art;
Format: PSD, PNG.
Demo animation: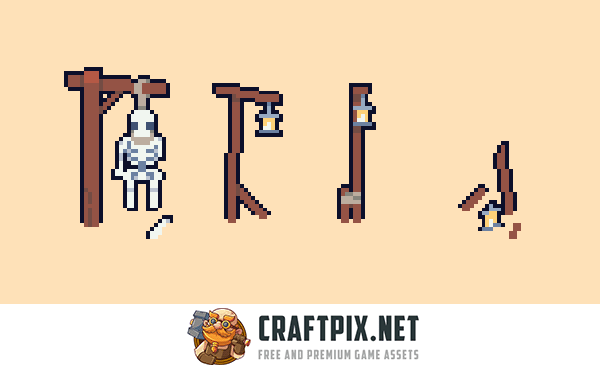 Save 98% OFF on ALL product
Get unlimited access to all game assets and save over $4724!
Exclusive for Premium users
UNLOCK DOWNLOAD
Instant access to ALL GAME ASSETS (included new ones!)
12 new products / month
Unlimited downloads for each product
Regular updates and support with dedicated help desk
You can sell and distribute games with our assets.
What do you think?