Description
Here are Free Field Enemies Pixel Art for Tower Defense. This set is perfect for developers who are just starting their journey in the 2D industry. It is absolutely free, but despite this, it has great potential and high graphics quality. Here you will find 4 characters that can be used as enemies that attack towers.
The original set consists of:
Small green slime;
Evil wolf;
Big goblin;
Flying bee.
Prepare for your players an update in which they will face exciting battles and strategic moves while defending their territory from waves of ruthless enemies. These enemy sprites are intricately designed to add visual appeal and immersion to gameplay. All of them are well crafted to convey the unique traits and character of the enemy it represents. In addition, they have a unique set of different moves, including several types of attacks, death, idle, walk, and more. All animations are stored as sprite sheets. With such a wide selection of moves, you can easily integrate it into any popular game genre, including tower defense, runners, platformers, adventures, strategies, and more. Also, you can easily change the overall structure or appearance of each of the characters. For this, you can use any graphic editor, like Adobe Photoshop.
Towers not included!
Graphics: 2D, Pixel Art;
Format: PSD, PNG.
Demo animation: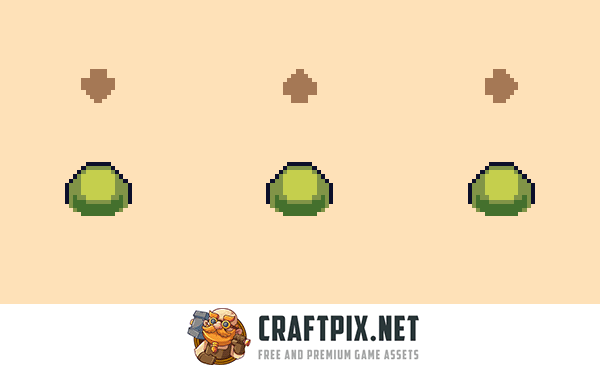 Save 98% OFF on ALL product
Get unlimited access to all game assets and save over $4724!
JOIN THE CLUB
UNLOCK DOWNLOAD
Instant access to ALL GAME ASSETS (included new ones!)
12 new products / month
Unlimited downloads for each product
Regular updates and support with dedicated help desk
You can sell and distribute games with our assets.
Free Download
Download this item grants you royalty free usage in unlimited projects. License details
What do you think?