Description
Introducing Free Extra Animations for Cyberpunk Characters. An extended collection of main character animations will definitely brighten up your RPG project or any other 2D pixel art game. Colorful retro images, canonical for such styles as SCI-FI and Cyber RPG genres (MMORPG, CRPG, Action-RPG, Rogue RPG and even action-platformer). Extended set of hero sprites includes: pull up, sit down, talk, use, walk, walk+attack, angry, dash, idle 2, fall, hang, happy. The team consists of the following fighters: a girl with pink hair in retro sportswear, a guy in a bright look from the 80s, a man (cyborg) in a cool robo-suit. Use Adobe Photoshop or any other raster image editor to edit them.
Graphics: 2D, pixel art;
Sprite sheet size: 48 pixels in height;
Format: PSD and PNG.
Demo animation: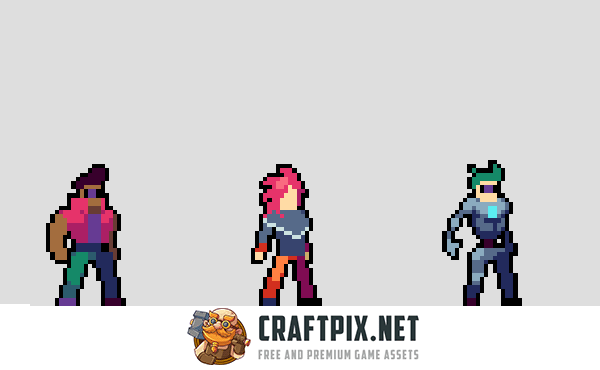 Save 98% OFF on ALL product
Get unlimited access to all game assets and save over $4796!
JOIN THE CLUB
UNLOCK DOWNLOAD
Instant access to ALL GAME ASSETS (included new ones!)
12 new products / month
Unlimited downloads for each product
Regular updates and support with dedicated help desk
You can sell and distribute games with our assets.
Free Download
Download this item grants you royalty free usage in unlimited projects. License details
What do you think?